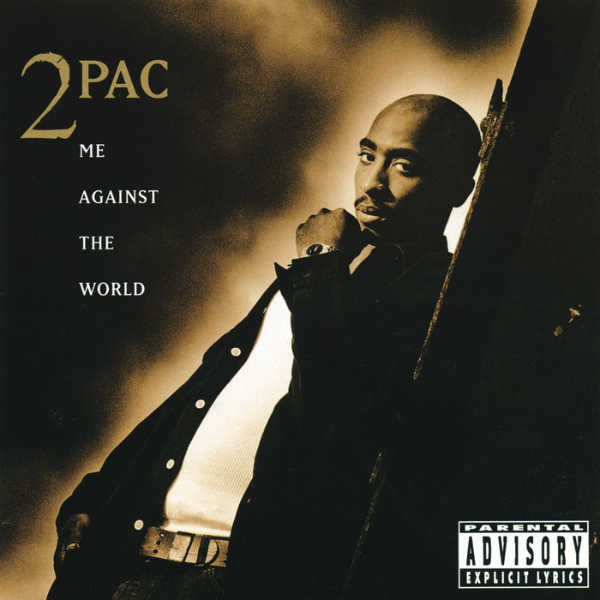 I always listen to All Eyez On Me and think 'Me Against the World is dope, but it's just not quite on this level'. And then I listen to Me Against the World and realize that the two albums shouldn't be compared. Both albums are in my top 10 for any genre of all time, and Pac tops my list of favorite rappers, a placement that I struggled to fill for years. All Eyez On Me was not a sellout album, but rather a glimpse of Pac slipping towards the edge of sanity, but that's not the one this review is about.
Me Against the World is Pac in happier times. There's still darkness there, but it's in balance, kept in check. As I mentioned in my review of Boosie the great attribute he shares with Pac is the willingness to lay down his raw emotions on his tracks. In Me Against the World Pac touches on his paranoia and darkness in Death Around the Corner and So Many Tears, but also his excitement and allegiance to music in Old School. He hits on his frustration and anger with the struggle in Fuck the World and It Ain't Easy, but then thanks his mother and the game of life for blessing him in other ways in Dear Mama and Heavy in the Game. He contemplates death in various ways, between suicide (Lord Knows) and an indirect suicide from his way of life (If I Die 2Nite). He avoids commitment in Temptations and seeks in in Can You Get Away.
These aren't contradictions, they're inner conflicts. This is what really shows us that Pac is baring his soul, as people aren't simple enough to be completely steadfast in every thought. Before Pac rappers like Face and Bushwick talked about the struggle and misery in their lives, but noone I know of put everything they felt on the track. This isn't an insult to earlier rappers, it's a compliment to Pac. Even now few rappers pour it all out, and who would? This is your personal thoughts, your inner workings, and who would be willing to put that on an album that millions will hear? This shows an incredible confidence in ones self and a lack of interest in others' judgement. We are incredibly fortunate Pac met those criteria and chose to let us in his heart.
Sample 1
Sample 2
Me Against the World